Announcing the MakerBot Modio design challenge
September 25, 2014
Today we announced the MakerBot Modio design challenge on Thingiverse. The challenge will run for two weeks and the grand prize is a brand new iPhone 6+!

Anything goes in the challenge - you can use the existing Modio parts as is or remix them anyway you like. Build characters, creatures, ornaments, vehicles, spaceships or whatever else you can come up with. With Modio now available on iPhone as well as iPad, lots more people have access to Modio to join in the challenge. There are also some parts available on Thingiverse if you don't happen to have a phone or tablet nearby to download Modio on.

To participate upload your designs to Thingiverse with the tag #ModioChallenge before Wednesday, October 8, 2014 at 11:59PM EST. Entries must be tagged #ModioChallenge to be considered and will be judged by a panel of MakerBot and Modio employees on creativity and printability

Have fun!
Modio for iPhone is out!
September 25, 2014
It has now been four months since we launched Modio for iPad and we've been busy working on making the user experience even better and adding more great content to 3D print. But we've also been working hard on bringing Modio to more platforms and we're extremely proud to be able to finally release Modio for the iPhone.

Modio for iPhone is a big update since we've updated the UI to dynamically adjust to the size of the screen - no matter whether you're using Modio on iPhone 5, iPhone 6, iPad Mini or iPad Air - it just works. On the smaller screens the part and modifications drawers in the editor actually scale up and down in size as you interact with them. They're also smart enough to know when to get out of the way when you're navigating around your model or building. Modio on the new iPhone 6 is simply amazing.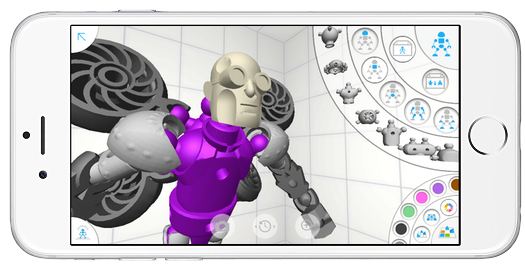 So, now you can take Modio with you wherever you go. Please download Modio for iPhone and let us know what you think, we're always looking for ways to make Modio better.
Meet Dr. Goggles, our first supervillain
September 25, 2014
Along with the new universal version of Modio comes our first ever supervillain, or Dr. Goggles as we like to call him. The Dr. Goggles character kit includes a lot of new parts, including a jetpack torso and fan blades that Dr. Goggles uses to propel himself skyward when he's in trouble.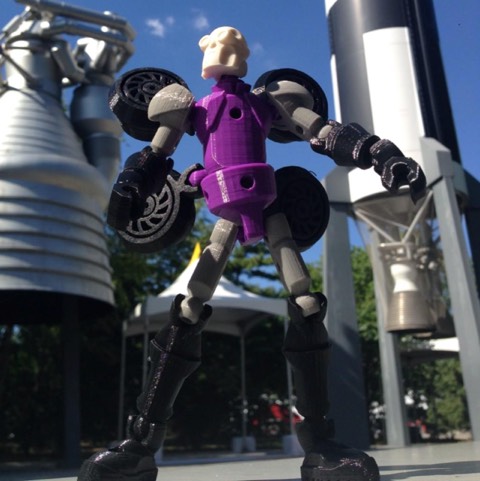 The latest Modio update also includes a new character template to make an amazing desert cobra as well as various other new parts to unleash your creativity. Check out the new version of Modio on the iOS App Store and download for iPhone or iPad.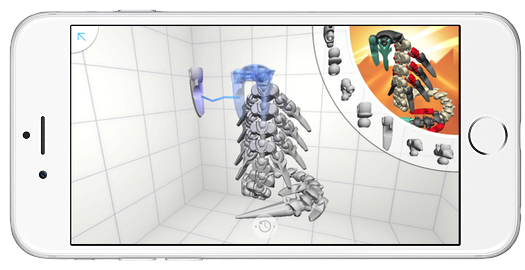 Modio nominated for the 3D Printshow Global Awards
August 18, 2014
Modio has been nominated in two categories for the 3D Printshow Global Awards. The winners will be announced during the 3D Printshow conference in London September 4-6.

If you like Modio, please help us out and vote for us in both categories. Here you can vote in the Best App category, and here's a link to vote in the Best Consumer Software category.

And as always, let us know in the forums or by email what you think of Modio and if there's something you'd like us to improve - after all we're developing Modio for all you fellow makers out there.
New character added plus some new features
July 21, 2014
Today we added our fourth character part set to Modio, a fun pixie character with wings and a crossbow no less. We added a few other new parts as well, including a Ninja torso with connectors for wings. You can download the update on the iOS App Store.

If you've been 3D printing Modio creations you'll also notice another change, although a minor one. Now all the feet sockets will print in a horizontal orientation instead of a vertical one. We've made this change to make the feet sockets stronger, as horizontal sockets tend to be stronger than vertical ones due to how layers are added on top of each other during printing.

Finally, we've enabled sharing via Facebook, so you can now easily share your creations using Twitter, Facebook or email, or save them to your iPad's photo library. It's great to see all the fun mash-ups that the Modio community is starting to create and post online as can be seen in our Made With Modio gallery. We can't wait to see what you will make using the new pixie parts.

Here are some photos of the new pixie character: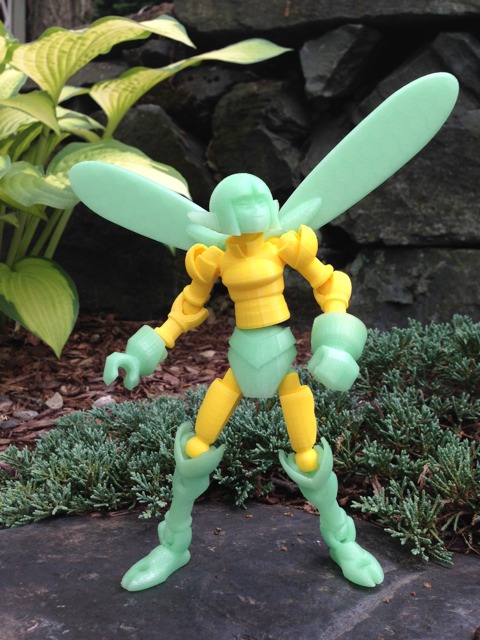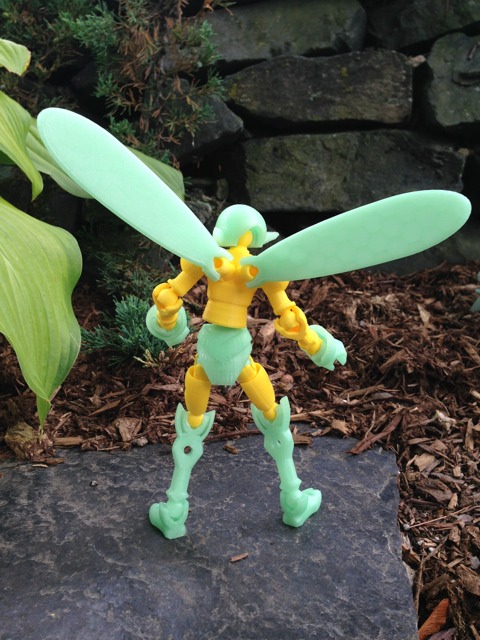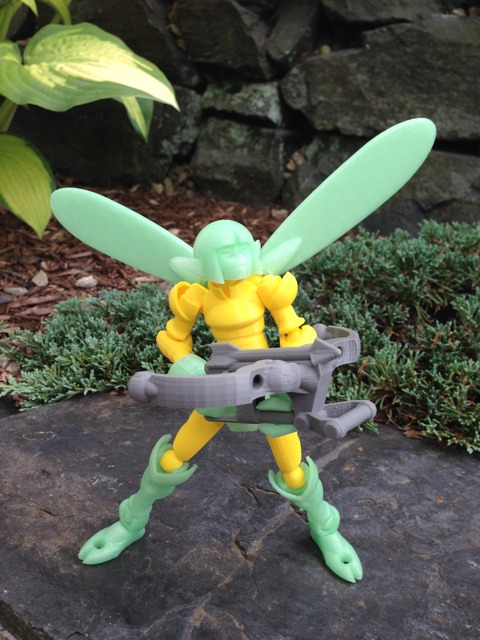 Made with Modio
July 2, 2014
We've added a new section to the website to showcase some of the amazing things people are making with Modio. If you're interested in having your Modio creation featured on the page, please send us an image of your creation by email or share it on Twitter using our Twitter handle (@modio3D) + hashtag #madewithmodio.
Modio at Maker Faire Kansas City
June 30, 2014
Thank you Kansas City and Make: for an inspiring weekend! Union station was an incredible venue and to all of you makers who stopped by the Modio booth to create with us, thank you. Look at some of the things you made!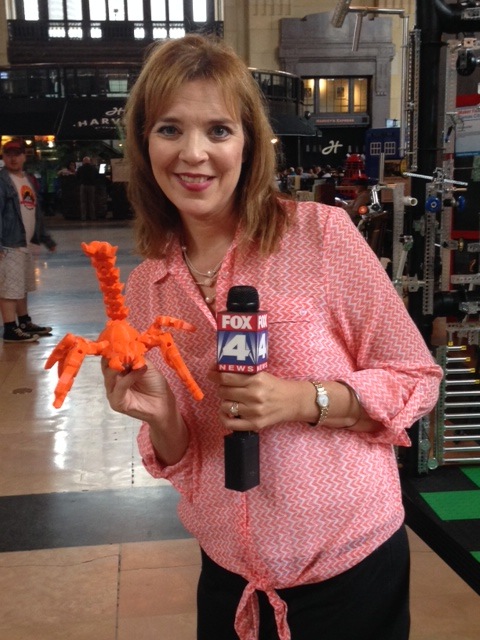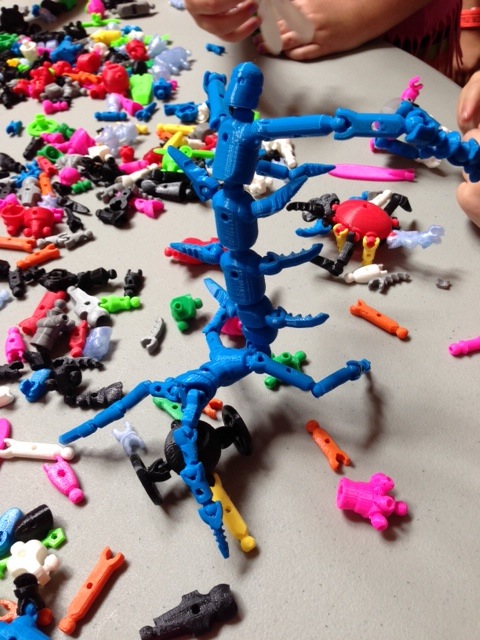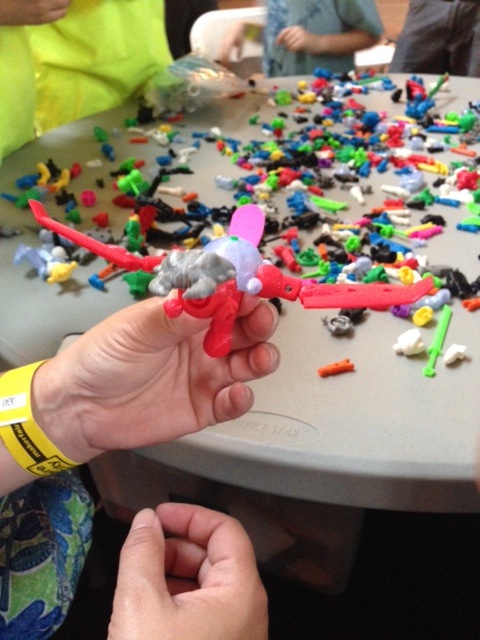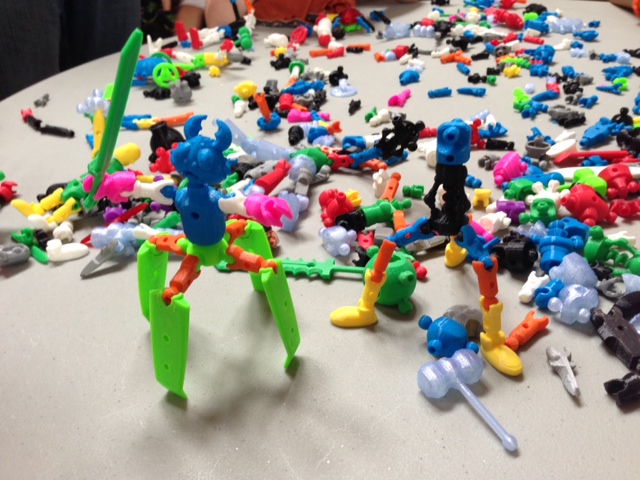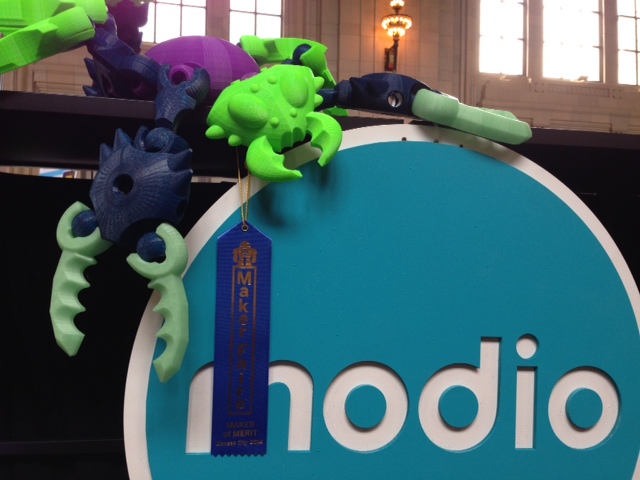 MakerBot partnership
June 19, 2014
Today we announced our partnership with MakerBot. You can check out the press release here.

We have been working with the team at MakerBot for some time now to optimize Modio for MakerBot printers and the whole MakerBot ecosystem. MakerBot is doing some really cool things to make 3D printing as easy as possible and are working hard to take desktop 3D printing to the next level.

It's great to be finally able to talk about all the things we are doing together. To start with, it is now easier than ever to prep your creations in Modio for printing with the new version of Modio we just released. You can simply upload your creations directly from Modio to your MakerBot Cloud Library. Just change the download settings in the Modio print menu to MakerBot Cloud Library, sign in using your MakerBot user ID and password and you're all set. Once you've uploaded your creation, you can simply select it from your library in the MakerBot desktop app and prepare it for printing.

The Modio app and Modio creations will also be featured in MakerBot retail stores and in case you don't have a printer you can use MakerBot's in-store 3D print service to print your Modio creations.

In order to take 3D printing to the next level we need to get as many people as possible excited about the potential of 3D printing, and the best way to do that is to give people the tools to easily make great things. Hopefully this partnership with MakerBot will be a step in that direction.

The new Modio update also adds an easy way to share your creations using email or Twitter, and you can also easily save photos of your creations to your iPad's photo library.

Let us know what you think in the forums or drop us a line - we're always open to suggestions on new features and content to add to Modio.
TechCrunch article on Modio
June 5, 2014
John Biggs (@johnbiggs) at TechCrunch posted a great article today on Modio. John has been involved in the 3D printing industry for some time now and has played with a lot of 3D design software - so we're pretty happy with his take on Modio. Or in his own words: "I've seen a lot of design programs ostensibly marketed at kids, but none are as cool as Modio."

Here's the video from the article showcasing some of the features of Modio.
Modio at Maker Faire Bay Area
May 29, 2014
We launched Modio at Maker Faire Bay Area this May and the reaction from the maker community has been simply amazing. We even got an Editor's Choice award from Make Magazine. Our booth was packed for both days and it was great to see how much everybody enjoyed playing with the app and putting together their own creations using the pre-made parts we brought to the show.

The design contest was also a great success. We randomly selected 10 creations made with Modio during Maker Faire and started printing them right away. The lucky designers should be receiving their creations in the mail soon.

Here are some photos of creations from the contest as well as from our booth at Maker Faire.